Beschreibung
dating: circa 1900 provenance: Giava, Straight, single-edged blade, in pamor. Grip and scabbard completely covered with silver foil, embossed and engraved with floral motifs. length 36 cm.
Auktionsdetails
Versand
AGB & Wichtige Informationen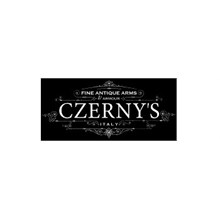 Czerny International Auction House Ltd.
Stellen Sie dem Verkäufer eine Frage
dating: circa 1900 provenance: Giava, Straight, single-edged blade, in pamor. Grip and scabbard completely covered with silver foil, embossed and engraved with floral motifs. length 36 cm.
Two Private Collections of Rare & Fine Asian Antique Arms
Ort der Versteigerung
Piazza V. Veneto, 13 - 19
Sarzana
19038
Italy
We do not offer shipping service in house anymore.
In order to provide a cheaper and faster service we now work exclusively with MBE Sarzana (UPS, FedEx, SDA, DHL)

For info, or shipping quotes, please contact directly: shipping.czernys@gmail.com
Wichtige Informationen
Africa & Balkans ( 1 – 34) | Asia & Indonesia (35 – 92) | Shields (93 – 96) | Pole Arms (97 – 124) | Swords & Sabres (125 – 195) | Knives & Daggers (196 – 331) | Mandaus (332 – 380) | Barongs & Sundangs (381 – 401) | Kris (Bali) (402 – 463) | Kris (Java (464 – 648) | Kris (Sumatra (649 – 738) | Kris (Sulawesi) (739 – 768) | Kris (Madura Island) (769 – 826) | Kris (Borneo) (827 – 830) | Kris (Malaysia) (831 – 841) | Kris Holders (842 – 857) | Miscellanea (858 – 862)
AGB
GENERAL TERMS OF AGREEMENT
General terms of sale: These general terms of sale are aimed at buyers and suppliers of d'Aste Czerny's International Auction House (hereinafter referred to as: Casa d'Aste Czerny's); these terms are available in the Auction Room, listed in the catalogue relating to each auction and published on the auction house's official website www.czernys.com under the following URL www.czernys.com/condizioni-di-vendita/. Taking part in auctions implies full acceptance of these terms, without any exceptions or reserves. Buyers and sellers are required, if requested, to sign these terms prior to entering into any contractual commitments.
Nature of the agreement: Czerny's International Auction House S.r.l. operates in the name and on behalf of the legitimate owners of items offered at auctions: it does not oblige nor acquire rights in its own right and the effects of the agreement occur directly between the buyer and seller. Czerny's Auction House does not assume any obligation or liability other than those deriving from its status as agent and with the reservations and clarifications set out below in respect of sellers, buyers or third parties.
Sellers' identity: Czerny's Auction House protects the confidentiality of sellers' identity and personal data; it is not obliged to provide this information to successful bidders, except in cases where a dispute concerning the purchased item arises.
Description and display of items: Presentation, descriptions and photographs of items contained in the auction catalogue and on the portal www.czernys.com, despite being expressions of the best knowledge and skills of experts appointed by the Czerny's Auction House, their sole purpose is to identify lots. Under no circumstances shall any incompleteness or errors in descriptions or, in particular, the failure to identify defects or imperfections (such as: breakages, restorations, deficiencies or substitutions), constitute grounds for claims or disputes subsequent to the sale. In order to allow buyers to examine each individual lot and to personally verify its properties, each auction is preceded by an exhibition open to the public for at least two consecutive days, according to the times shown on-site and published on the auction house's official website www.czernys.com . Prior to the launch of an auction, the Sales Manager will be available to provide any useful explanations regarding items which, upon agreement with Czerny's Auction House, can be examined by any means of investigation that do not cause damage to them and that do not affect the possibility of being examined by other interested parties. Buyers who make one or more bids without a prior personal inspection of the lot, but bid based only on photographs, the catalogue description and the form published on the website www.czernys.com, do so at their own risk. It must be understood that, unless otherwise specified, all items sold at auction are used and in such conditions as sold, with all possible defects and imperfections that may arise, such as breakages, restorations, deficiencies or substitutions. Therefore, following a purchase during auction, claims are not admissible based on the state of conservation, classification, description, dating, attribution of purchased items, or due to defects, even if hidden, except for cases of malicious or intentional concealment by a seller. Antiques and antique weapons by their very nature may present restorations or modifications, such interventions can in no case be considered as hidden or latent defects. The state of mechanical operation of items and firearms for sale is not guaranteed by the auction house and buyers purchase them at their own risk, without reserves and waiving all exceptions.
Licenses, authorisations and permissions: Sellers and buyers are required to strictly comply with the law, including international laws, governing the sale, purchase and holding of items placed at auction. In particular, sellers and buyers shall be liable for obtaining all the authorisations or licenses deemed necessary for the purchase, transport and possession of weapons, even if antique or historical: where required, the buyer undertakes to display and provide a copy to Czerny's Auction House of the aforementioned permits. Buyers are also required to inform themselves prior to making purchases regarding laws and import restrictions in force in their country in relation to antique weapons, sidearms and firearms and antiques, also in relation to the materials of which these are made of. Czerny's Auction House, its agents or its staff cannot be held liable for any damages incurred by buyers due to the import of goods which are prohibited or limited by their country of origin.
Restrictions on the movement of certain goods: Czerny's Auction House draws the attention of sellers and buyers to compliance with current regulations regarding the prohibition or limitation for exporting items of historical and artistic interest, with particular reference to the provisions of Italian Legislative Decree no. 42 of 22/1 / 2004 (Italian Cultural Heritage Code) and subsequent modifications and additions. Under no circumstances shall Czerny's Auction House be held liable for the failure to issue a certificate on the free movement of a given good, restrictions determined by notifying the declaration of cultural interest, or by exercising the right of pre-emption on behalf of the Italian Government.
Registration of auction participants: Anyone interested in taking part in the auction must register, providing Czerny's Auction House with the information and documents deemed necessary to identify them, including: residence, shipping address, email, telephone number, copy of a valid identity card or passport, tax code, VAT reg. number. At the Auction House's discretion, a security deposit and additional information or references may be requested from buyers. For Italian customers wishing to buy or sell weapons, a copy of a valid permit for keeping antique weapons including shooting firearms or a license for antique firearms will be required. The above documentation can also be sent by email to the following address info@czernys.com. Data sent will be processed in compliance with the Italian privacy law. Customers will be required to send updated documentation if documents expire. Registered users will be issued a personal identification number or code which is necessary for submitting bids.
Taking part in auctions: Taking part in an auction is possible by making bids in the room, depositing or submitting written bids or by telephone or on-line communications. Written bids received before the opening of the tender must contain clear information on the lot and the price offered. Written bids shall be made at the minimum possible price with reference to other bids and at the reserve price. The purchase of lots by a person to be appointed or the transfer to third parties of lots won is not permitted.
Telephone bidding service: Casa d'AsteCzerny's offers its customers a telephone bidding service. Customers who wish to be phoned during auctions to a previously notified telephone number previously for one or more lots of interest, can request this in writing by email at info@czernys.com, or by filling in the the Bid sheets included in each Czerny's catalogue or which can be downloaded from the website at www.czernys.com. For bidding on lots where bidders wish to make use of the telephone bidding service, the customer unconditionally accepts from the moment of his request to bid for the lot itself the basic auction value, and more precisely the first of the two prices indicated in the catalogue and on the website. In the event that no other bid is received during the auction, lots will be awarded to the person/entity that requested the service even if the latter has not confirmed their bid by telephone during the auction. Czerny's Auction House shall not be held liable for any technical issues that may prevent or limit the telephone bidding service during auctions. The telephone bidding service is provided on condition that the total amount offered be not less than Euro 500.
Bids through web applets or third-party platforms: It is possible to submit bids, after registering and entering personal data, also through the website www.czernys.com and the relevant web applet or by means of third-party web platforms. Bids submitted as above imply the unconditional acceptance of these general terms. Users who take part in auctions through the web applet of the website www.czernys.com or third-party platforms are aware that during the auction about 100 lots are auctioned per hour: therefore, the correspondence of data on bids shown by the web applet of Czerny's Auction House or by third-party web platforms with any increasing offers made in the Room cannot be guaranteed, with the consequence that the latter may be higher and prevail. The Sales Manager present in the room is the only party entitled to ratify rising bids during auctions.
Use of the website and telephone and on-line services: The use of the www.czernys.com website is free and takes place at the user's risk. Czerny's Auction House, its agents or staff cannot be held liable for damages or inconveniences due to problems related to the use of the website www.czernys.com nor due to technical problems related to telephone lines or internet connection, or for the non execution of bids submitted by telephone or on-line. It is forbidden for users of the website www.czernys.com to use the site itself and the relevant services for illicit or purposes contrary to these contractual terms. Czerny's Auction House reserves the right to exclude, at its sole discretion, any user from accessing the website www.czernys.com and relevant services. All equipment made available by Czerny's Auction House on the website www.czernys.com and by means of the relevant services (including: texts, graphics, photographs, advertising images, etc.), is protected, even criminally, by the current Italian copyright law. Czerny's Auction House cannot be held liable in any case for issues and damages suffered by customers due to links to third-party sites on the www.czernys.com platform or for damages deriving from the use of third-party platforms.
Exclusion from auctions: The Sales Manager, at his sole discretion, has the right to exclude from participation in the auction persons who may disrupt its normal exercise as, by way of example but not limited to the following: parties who interfere, who trade in the room, who are late in making payments, regardless of the reason, due to Czerny's Auction House or that have a dispute open both in court and out of court, or those who have been convicted of crimes concerning trade.
Auction mode: Individual lots are sold to the highest bidder, for cash and in Euro. Bids on the increase during the bidding process cannot be less than 5% of the previous bid. Any purchase offers for a price lower than the auction's reserve price (which, if not further specified, shall never be lower than the minimum bid price), may be considered only outside the auction and after that, at the sole discretion of Czerny's Auction House and prior written consent of the seller or owner. Lots are awarded by the Sales Manager who ratifies their award. Disputes regarding the priority or timeliness of bids are decided on the spot, at the Sales Manager's discretion. In the event that two winning bids are equivalent, the assignment of the lot to one of the two bids is at the Sales Manager's discretion. In all cases of dispute, it remains understood that the Director of Sales may cancel disputed transactions and repeat an auction, in the same auction session or in the one immediately following it, for a starting price equal to the highest bid received in the room or in writing and not disputed.
Changes to lots: The Sales Manager has the right to withdraw lots from the auction, change the order of lots, merge multiple lots among those for sale, or divide items already catalogued as single lot into several lots, establishing new prices generated by these initiatives.
Auction fees and ancillary charges: Auction fees, equal to 20% (twenty percent) of the price reached at auction or expressed in the written purchase bid, increased by the V.A.T in the legal measure (currently equal to 22%) must be added to the purchase price that results from the event. In addition, any additional tax and / or ancillary charges shall be borne by the purchaser.
Terms and methods of payment: Payment of the auction price and auction fees for lots awarded, with the relevant ancillary expenses, must be made within 10 days from the end of the auction, upon issuance of invoice notice in paper or digital format. Buyers present in the room must make payment of the purchase price, auction fees and relevant ancillary expenses immediately following the award of an item. The transfer of ownership of awarded property is finalised at the time of payment of the purchase price, auction fees and relevant ancillary expenses. In the event of non-payment or late payment, Czerny's Auction House can proceed legally in order to request the compulsory execution of the obligation to conclude the agreement or to sell the lot awarded through auction or private treaty, charging the defaulting bidder every greater cost and damages and withholding any advance payments received for this purpose. In all cases of non-payment or late payment, lots will remain in storage at Czerny's Auction House at the successful bidder's risk and expense, until sold or collected by the seller. Foreign buyers are required to pay Italian taxes on the service (V.A.T).
Collection of purchased lots: Purchased goods must be collected at Czerny's Auction House within 48 hours of payment of the invoice notice referred to in section 15 above) at the buyer's expense and risk.
Lot shipments: Czerny's Auction House offers a lot shipment service, providing for the packing, shipping and insurance of the latter and shipping to the address indicated by the buyer and according to the procedures mentioned below. The service provides for the payment of a fee upon the issuance of an invoice, including administration, packaging, labour, shipping and insurance, with immediate payment. The shipment of lots classified as antique weapons by Italian law will take place immediately following payment of the consideration for the award and for the shipment, and after the competent authorities have processed the formalities for the transport or export abroad of the items. The goods will be sent to the address as instructed by buyers, to which the shipment's tracking number will be sent. Buyers state to be aware that the time required for issuing the necessary authorisations does not depend on Czerny's Auction House which cannot be held liable for any delays. Regardless of the service offered by Czerny's Auction House, customers residing abroad are obliged to use the service of a forwarder, as they are not authorised by law to transport weapons, even antique ones, to Italy. Czerny's Auction House is available for estimates of shipping costs even prior to an auction taking place.
Shipping by the buyer: In a situation where the carrier is identified by the buyer, it is the latter's responsibility to immediately notify the identity to Czerny's Auction House; the buyer is also required to issue specific written clearance to Czerny's Auction House for delivery to a courier of purchased lots, without prejudice to the need to have all the necessary authorisations for transporting and exporting individual items.
Exclusions for special cases: Czerny's Auction House reserves the right not to provide shipping services for individual lots or for complete auction rounds. This option will be notified to auction participants by means of instructions on the printed catalogue or on the web platform www.czernys.com prior to the start of auctions. In such cases, Czerny's Auction House may suggest a trusted forwarder, but will not personally manage the shipment or the packing of lots.
Special rules for the shipment of firearms to non-EU countries: Shipments are normally carried worldwide, except for countries that prohibit their import by law. Buyers state to be aware that shipments of antique firearms outside the European Community may require additional time and costs.
Courier packaging and identification: Except as provided in section 19 above, Czerny's Auction House reserves the right to decide on the packing procedures of lots and to choose the forwarder or carrier: unless otherwise specified, goods always travel at the recipient's risk and expense. Any instructions of buyers regarding the type of packaging and the forwarder shall be duly taken into account but are not binding for Czerny's Auction House. Goods shipped outside Italy must always be accompanied by a complete commercial invoice indicating the value and type of goods.
Damage to shipped goods: Any damage suffered by shipped goods must be reported to Czerny's Auction House and to the carrier within five days of discovering it, in order to obtain the assistance of the insurance company, without prejudice to the buyer's obligation to take all measures suitable to avoid aggravation of damages. Damage must be reported to Czerny's Auction House by registered letter or certified e-mail (PEC) at the address czernys@legalmail.it, and must be accompanied by appropriate photographic material or video. Czerny's Auction House shall not be liable for any damages beyond the period mentioned above. Shipping costs are not refundable
Disclaimer: Czerny's Auction House cannot be held liable for damages suffered by items after delivery to the forwarder
Nature of auctioned goods: All goods placed at auction must be considered as used and supplied as antiques or as products to be repaired and refurbished in accordance with and for the purposes of Art. 3 paragraph 1 lett. e) of Italian Legislative Decree 206/2005 (Italian Consumer Code) and subsequent amendments.
Exclusion of the right of withdrawal: Pursuant to Art. 59 of Italian Legislative Decree 206/2005 and subsequent amendments the right of withdrawal with respect to any lot are excluded.
Items which refer to the fascist or Nazi period: Czerny's Auction House clarifies that the items offered for sale are simple historical and documental evidence of a given period; therefore, with particular reference to items which are specific to the historical period or in any case referable to the Nazi or fascist regime, the description, photographs and publication on the auction catalogue always take place for commercial and scientific purposes and excludes any apologetic understanding.
Extension of sales terms: These general terms apply, to the extent compatible, also to any subsequent purchases following the auction of lots not awarded.
Changes to the general terms: Czerny's Auction House reserves the right to modify these terms and conditions at its own absolute discretion, at any time and without prior notice. Auction participants shall be liable for checking updates published according to the procedures set out in point 1.
Jurisdiction: Any dispute concerning the application, interpretation or breach of this agreement shall be referred to the exclusive jurisdiction of the Court of La Spezia.
Vollständige AGBs